Specialization Model
huntRED® has an innovative business model, that allows us no only to speed up the process timeframe, but reduces cost and delivery charges. It also boost the quality through out the recruitment process. This model is integrated by two pillars or corners exemplified below.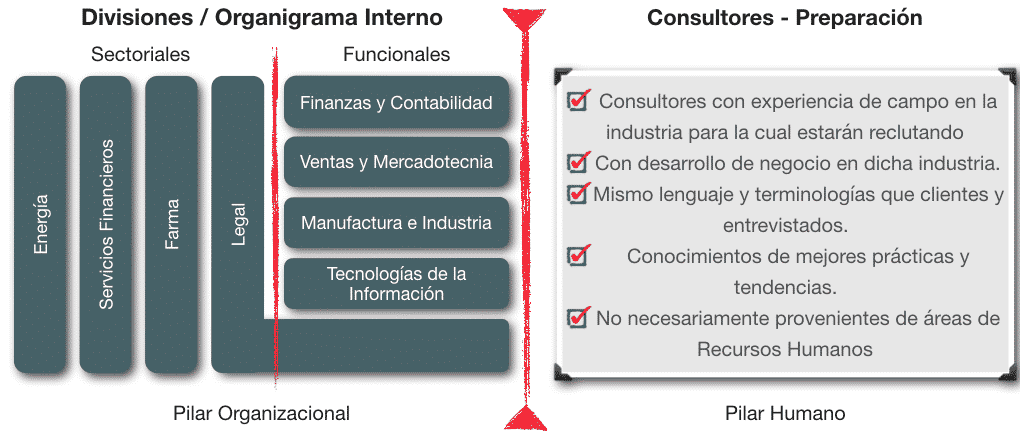 The recruitment and selection of huntRED, are led by consultants with prior experience in the industry where the process is done, these are our areas of expertise:
Executive Search
Interns
Financial Services

Banking
Investment Banking
Hedge Fund
Afores
Insurance

Pharma
Energy
Legal

Law Firms
Internal Law Departments

Finance & Accounting
Sales & Marketing
Information Technologies
Also we provide assistance to job boards of the most prestigious universities, having a scope for Scholars in our Social Responsibility program.
Stages of the Process
Of fundamental importance, this first step allows us to better understand the structure of the client, its objectives, its culture and its positioning. It allows us to also analyze the performance of the business and its peculiarities.


Home of the recruitment process. Our consultants, through one or more meetings with people involved in the process, define the details of the position:
Main responsibilities;
Determine technical and psychological requirements;
Define the remuneration package – fixed, variable and other benefits;
Define performance measures;
Define stages;
Formalize the time to complete the process.
After the survey and conducting interviews with candidates, present the list of finalists, we deem the most appropriate for the mission. This list will cover a critical analysis for the position sought:
Technical and personal skills, motivations, current compensation package and wage claim of each candidate.
Prospectation Tools
huntRED It uses a combination of tools to attract the best candidates in the market. Our methodology allows us to have lower response times and ensures alternatives for selection processes. Between them:
huntRED has a specialized database for each of its divisions data, through which candidates can be identified using various criteria, such as area of expertise, position, experience, age, salary, languages, among others.
This tool is updated directly by candidates and consultants, who interviewed an average of 15 candidates per week.
Announcements are published in specialized media and targeted segment of customers requiring candidates:
National Press: El Economista, Reforma, Más por Más, to name a few
The use of one or more ads in media, is always done in consultation with the client, it remains the responsibility of huntRED demonstrate the advantages of the use and effectiveness of this tool, according to the strategy of each selection process.
Website: www.huntRED.com
Head Hunting
The huntRED consultants can also use their solid network of contacts and the same references made through our technology platform for directions and address directly to potential candidates when the profile required.

Headhunting
90%
Consulting
80%
Content generation
70%
Organizational Development
65%
Corporate Strategy
65%
Some of our Clients
Mexican Labour Market Analysis
We have launched our latest study of the Mexican labor market that includes a detailed and comparative analysis added to our already known study of remuneration.
Being a faithful representation of what happens in the Mexican labor market in the segment of middle and top management positions through information collected by more than 250,000 candidates registered in the database of huntRED®, as well as describe the main trends and challenges faced by the leaders of the world of human resources in the country and compare them as far as possible with the statistics worldwide, such as: acquisition of talent, retention, employee engagement and, most importantly, ensure that your function complies with corporate objectives.
| | |
| --- | --- |
| iBooks Download | or PDF download |
| | |
Known to detail, not only comparatively as is your perception, but they are developing industries and ti expects the market.
The History of Headhunting
Our history worldwide:
The practice of headhunting born in business consulting companies, financial and accounting after the Second World War. As a result of the analysis of customer business, in many cases, a plan of action and innovative management of the company was not qualified or did not have the right person to implement recommended. It was then that the consultant recommended the hiring of a new executive, was looking for him and found him charged for this service.
1951 was the year of "McKinsey & Co" (recognized business consultant) decided that there was a conflict of interest between doing consulting and executive search in the same company. This practice was questioned by many and put into question the professionalism of its main business: The business consulting.
As a result of this action, many members of McKinsey and other consulting firms recognized as Booz Allen & Hamilton became independent and thus began the industry that we know today as headhunters. A similar story happened in parallel with financial and accounting consulting. Some consultants never practice their independence, others took them several years to do it, but certainly this was the year that saw the great movement in the US. The rest is history, companies expanded into the US, then in Europe and later in Latin America, Asia and Africa.
Trends: What can we expect in the future.
As in other industries should go through a process of consolidation that is, many companies will fail and others will get bigger. This will happen as companies become more demanding customers: Learn to distinguish effective from ineffective companies and lower demand as in countries like Brazil and Argentina rates.
Executive search rather than an exact science is an art, there is no formula for creating art.
To do an effective job should gain an understanding of two factors, the company culture and the real need behind a position. This allows to discriminate between a good candidate for the company and good for the company B. This one implies judgment and this is achieved through experience, practice and innate understanding companies and candidates skills.